Egyptian Paste Workshop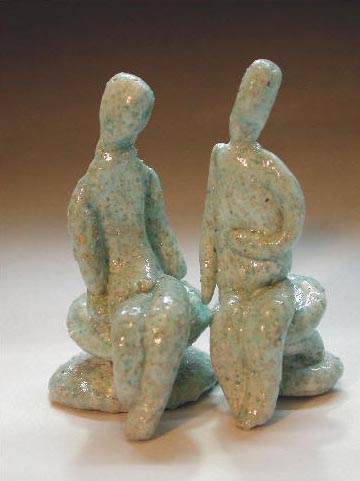 Faience Couple
Egyptian paste reputed to be around since 5000 B.C. is a self-glazing clay and is more of a glass paste than clay; it is far less pliable than clay, but its self-glazing properties make it the ideal media for single firings. Surprisingly, modern masters have not achieved the craftsmanship of the ancient Egyptians in this media, but that won't stop us from having a lot of fun trying!
Most clay artists tend to limit themselves to bead making when working with Egyptian paste however in this workshop we shall learn innumerable objects of art that may be fashioned.
A Truly "hands-on" 4 sessions two-hour workshop, all your supplies are included the $93 fee. Tools will be provided for in studio use and we will fire the objects for you. For a nominal extra charge we will even ship your fired pieces to you. 4 weeks of the sessions run on Tuesdays evening at 7:00 starting May 9th, 2006.
This workshop "must take" for teachers and potters alike - the potential for new ideas are endless.