Colored Clays Workshop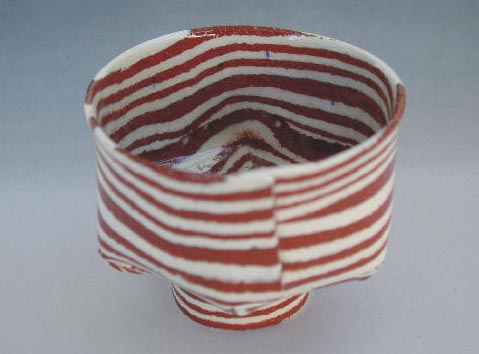 sake cup
We will mix colored clays by adding ceramic pigments to the basic clay body. Slabs of these contrasting colored clays are laid on one another, pressed into a block or loaf, then cut into strips, sort of like a slice of bacon, then joined together to form a slab. The resultant slab is used to make pottery.
This technique is called Neriage when pressed into molds, as it's done in Japan. In the West it's called Agate Ware. We just refer to it simply as colored clay.
In this workshop we will make an exquisite teacup like the fine one pictured here. Other colored item leading up to this cup will be covered during the four weeks we meet.
The workshop fee of $93 includes your supplies and use of the studio's tools. Firing of your teacup is done at no extra charge. It may be picked up a week after the workshop or you may arrange to have it mailed directly to you for a nominal charge (just to enough to recover shipping and handling costs).