Fused Glass Jewelry Workshop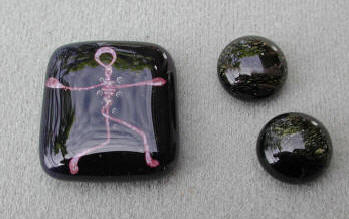 fused Glass Pin and Earrings
"Have Kiln, Will Fire". Melting glass at high temperatures to form a sought after outcome is the basis of fused glass. We will experiment with glass fusion techniques and acquiring new skills along the way. There are no prerequisites for this workshop, because we are starting with the basics and building up from there.
In this 4 sessions hands on workshop , we will experiment with "painting", inclusions/embedding, laminating dissimilar colors together and printing patterns in glass to form earrings, pins, pendants and other baubles. Here is a fascinating opportunity to learn innovative fused glass for jewelry.
Workshop fee, $127 includes your glass, uses studio tools, firing, findings and supplies for this workshop. Workshop is limited to five participants.