The Peacock Project
Creating a site specific mosaic floor tile mural from start to finish.


Page 1 of 4 next>>

site at clients house

Planning out Mosaic
The site is in the grant entryway of a private residence. The cement floor is set with Travertine, a limestone that is somewhat resistant to staining and wear. A "hole" one yard in diameter was left centered in the entry for the installation of the Peacock Medallion.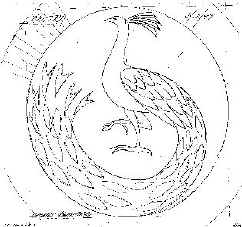 Rendering of peacock motif for mosaic by Howard Bernstein
The client and his decorator had very specific design ideas. Anitra Watley Allen creates a look of antique elegance with ceramic that has durability to foot traffic. Anitra worked with the motif of the client match their décor.

Table top

Work surface for rotating table is cut from hard board.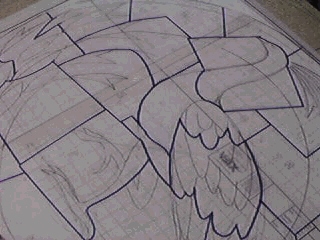 photo copy enlarged
The drawing is enlarged to 108% of the size of medallion then cut to 8x8 inch, 20cm or smaller pattern pieces for tiles. Grout lines are determined on enlarged rendering. Care is taken to be certain no segment is larger than 8" by 8"
Page 1 of 4 next>>